I have a confession… I've been struck with a dark chocolate craving on more than one occasion, and generally late at night. So what's a girl to do? I came up with this Eat Yourself Fit recipe for simple and quick home-made chocolate bark to make when the shops are closed and only chocolate will do…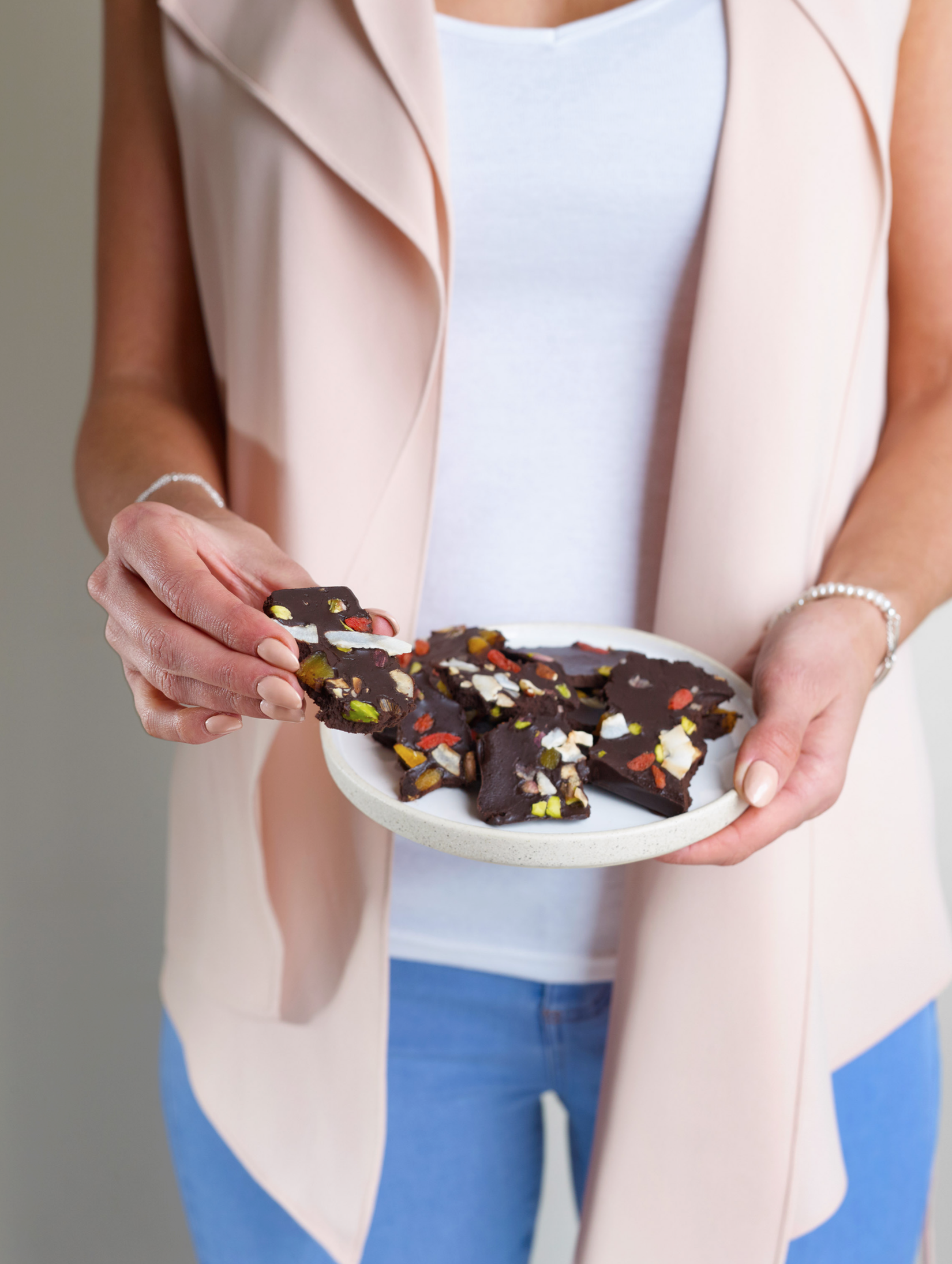 I thought it would be apt to name it SOS Chocolate, as it has saved the day plenty of times! It's delicious topped with your favourite nuts, seeds and dried fruit. For this recipe, I have used toasted coconut flakes, slivered almonds, chopped hazelnuts, pistachios, goji berries and dried apricots.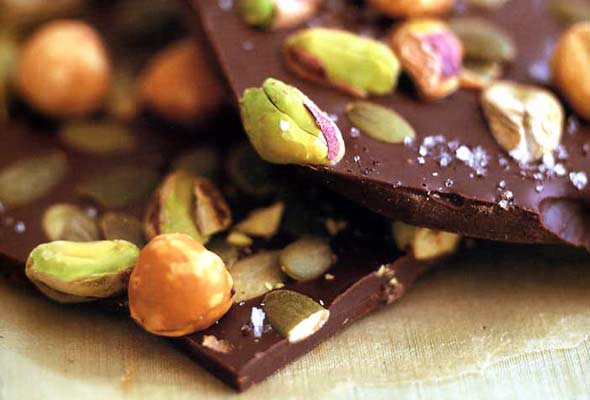 Let me know if you give this SOS Chocolate a go and I love to see all your creations on social media! Simply tag #RosannaDavisonNutrition on Instagram or Twitter or come on over to my Facebook to say hello 🙂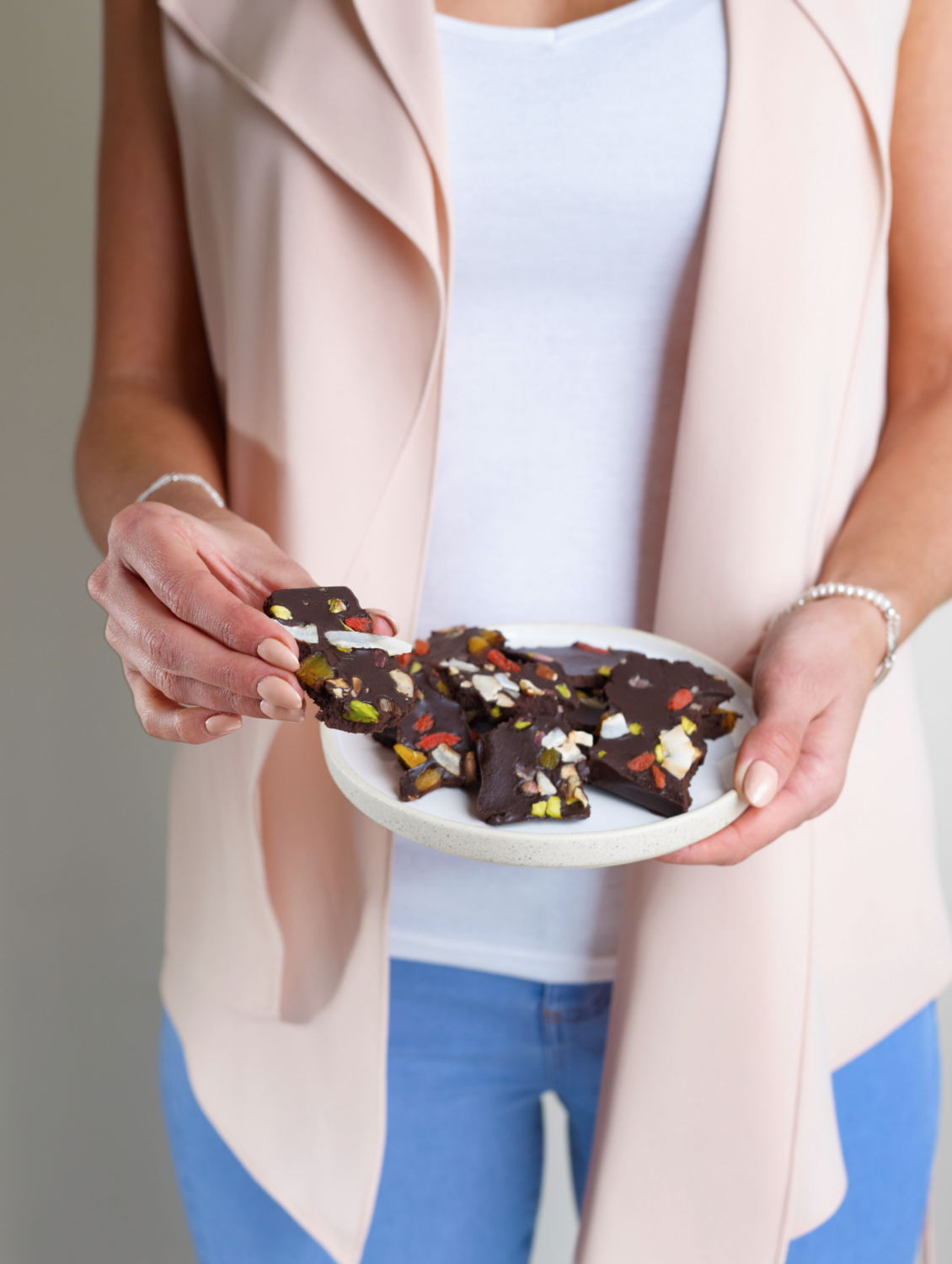 Eat Yourself Fit SOS Chocolate Bark
2018-09-30 13:13:19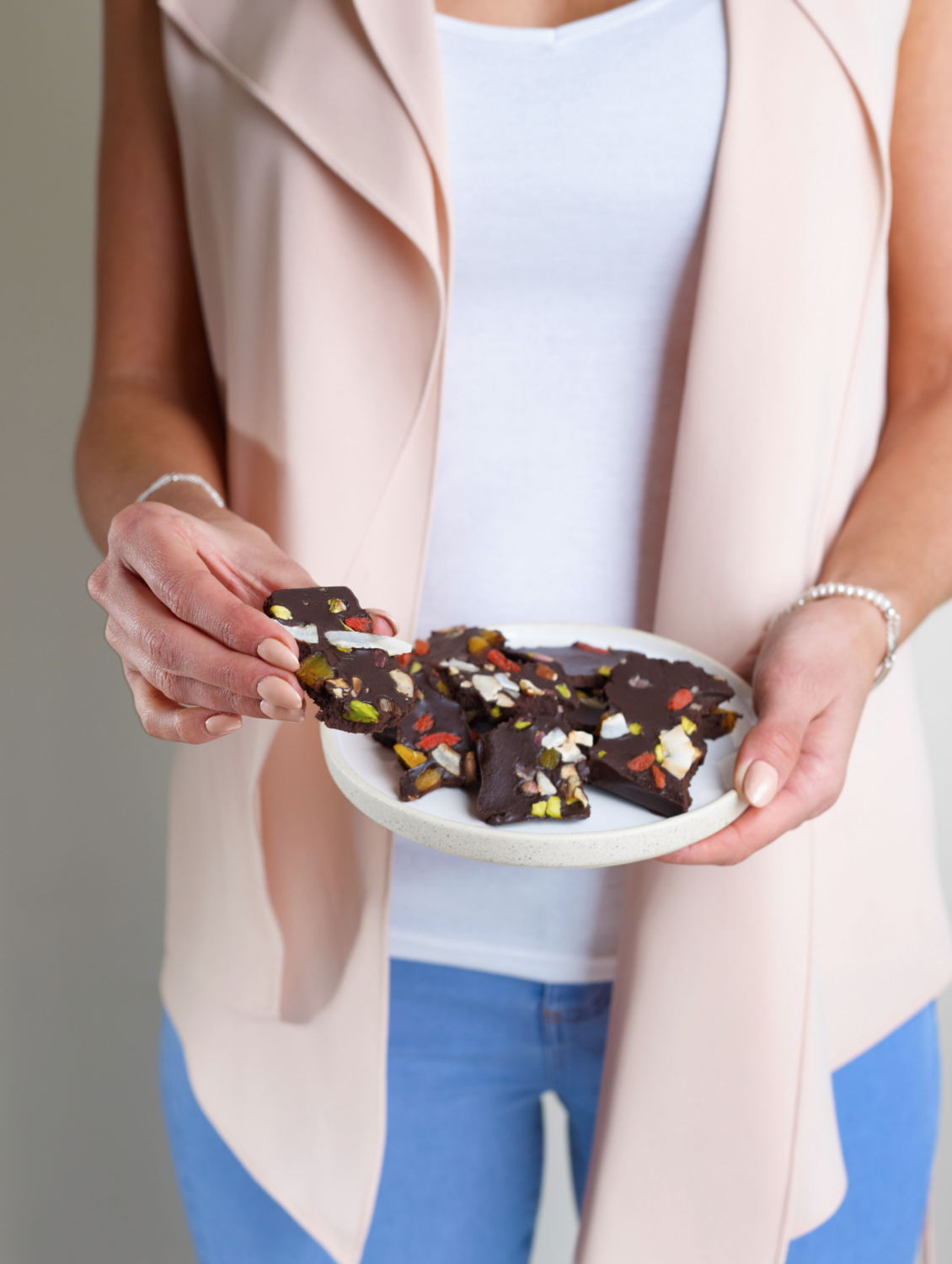 Simple and quick home-made chocolate bark, delicious topped with your favourite nuts, seeds and dried fruit. Per serving: 140 calories, 3.4g protein, 11.7g carbs, 9.5g fat
Ingredients
30g raw hazelnuts, skinned and chopped
30g slivered almonds
20g unsweetened coconut flakes
110g virgin coconut oil
45g raw cacao powder or unsweetened dark cocoa powder
80g pure maple syrup or honey
2 tsp vanilla extract or vanilla powder
1 tbsp pistachios, chopped
2 tbsp goji berries
2 tbsp dried apricots, chopped
Instructions
Preheat the oven to 190C and line two medium baking trays with greaseproof paper. Spread out the hazelnuts, slivered almonds and coconut flakes on one of the trays. Toast them in the oven for 10 minutes until golden. Remove from the heat and set aside.
In a saucepan over a medium heat, melt the coconut oil and add the cacao, maple syrup and vanilla. Stir until a smooth chocolate sauce forms, then mix in half of the nuts and coconut flakes until well distributed..
Pour the chocolate mixture into the second prepared tray and smooth it across the top with a spatula.
Sprinkle with the remaining half of toasted nuts and coconut, plus the pistachios, goji berries and chopped apricots then place the tray into the freezer on a flat surface to set for 30 minutes.
Remove the tray and slice or break the chocolate bark into pieces and serve chilled.
The bark is best stored in the fridge or freezer as it begins to melt quite quickly at room temperature.
Rosanna Davison Nutrition https://www.rosannadavisonnutrition.com/