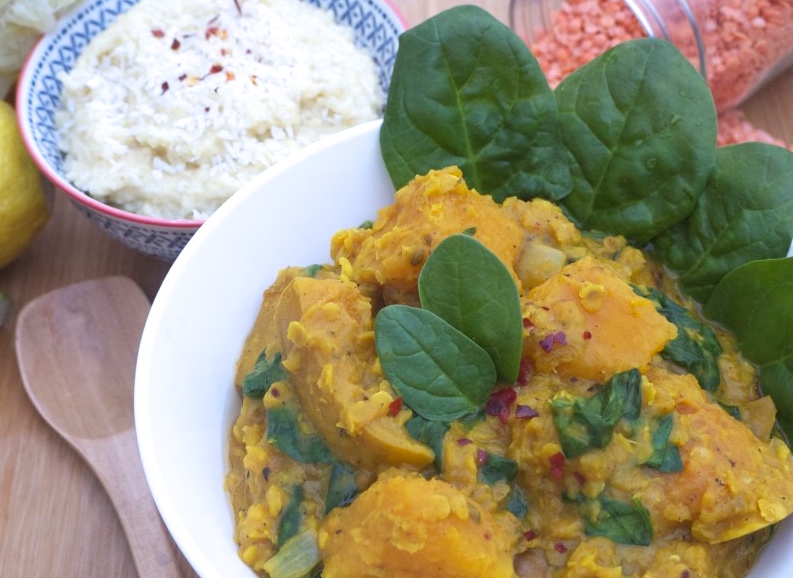 Goooood afternoon!
I hope that your Monday is going well so far 🙂
Healthy eating is so much about being organised and planning ahead, which is why I often plan my meals and snacks at the beginning of the week. I'll make a trip to the supermarket to stock up on fresh fruit and veg for my salads and smoothies, beans, legumes and quinoa for curries, stews and veggie burgers and quick snack options like raw unsalted almonds, berries and avocados for guacamole and Spicy Salsa Avocado Boats!
I love to make a big batch of curry or stew on a Sunday or Monday, as it does me for a few days and I know that I'll have a nourishing meal ready to heat up and eat.
This curry contains all of the skin-brightening beta-carotene goodness and sweet flavour of roast butternut squash, paired with the protein and fibre blast of red lentils. Lentils are bursting with goodness, low in fat and calories, simple to cook, inexpensive to buy and tend to be easier to digest than other types of beans and legumes for those with more sensitive digestion. They're a brilliant food to stock up on and keep as a store cupboard staple, plus almost all supermarkets stock bags of dried green, red and puy lentils.
Split lentils cook even quicker than whole lentils, and make a great addition to soups to boost their amino acid content, which can help to stabilise blood sugar levels and keep you feeling full for longer.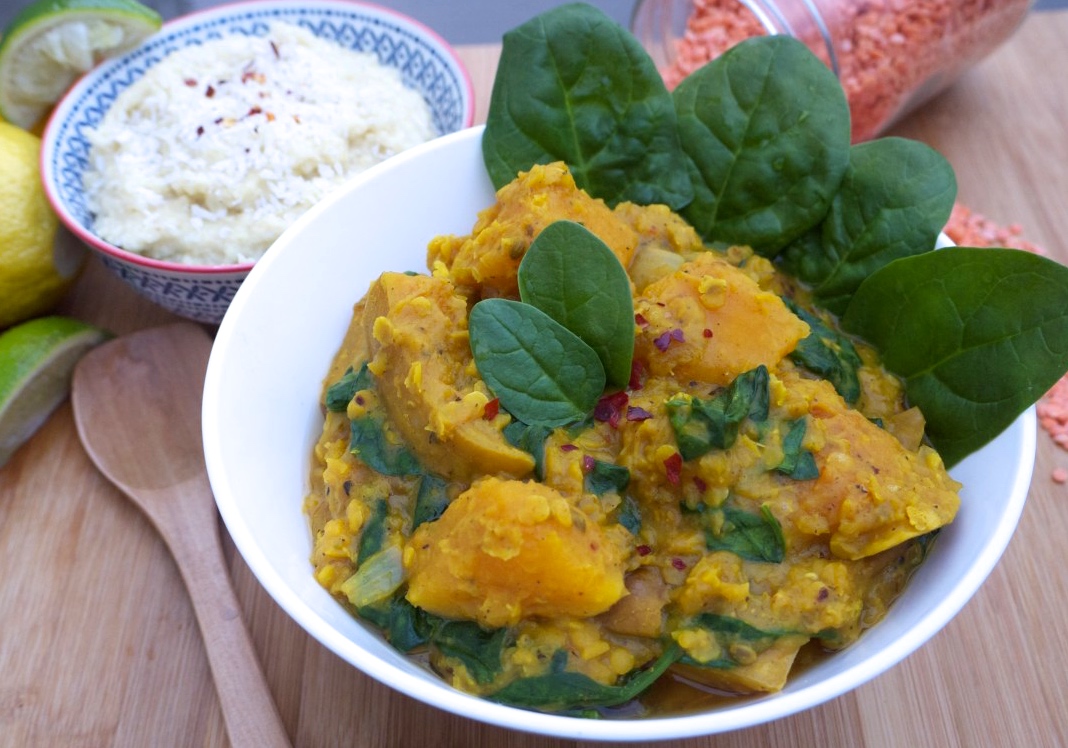 Anyone cooked with millet before? It's not just a bird food! Naturally gluten-free and a seed rather than a grain, millet is so easy and quick to cook. I love its creamy, mild taste which pairs well with a variety of flavours. In this case, I served it with two of my faves – lime and coconut!
Millet is a more nutritious alternative to grains like white rice and cous cous, and a rich source of copper, phosphorus and magnesium – nature's sedating nutrient to calm a stressed-out nervous system.
It's also relatively low in calories, with 207 per cup cooked, and a good source of protein, with 11g per 100g of millet.
I buy millet in my local supermarket or else in Holland and Barrett – €1.99 for 500g.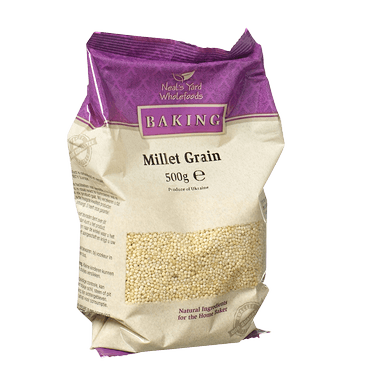 I love seeing your recipe creations on social media! Simply tag #RosannaDavisonNutrition on Instagram or Twitter or come on over to my Facebook to say hello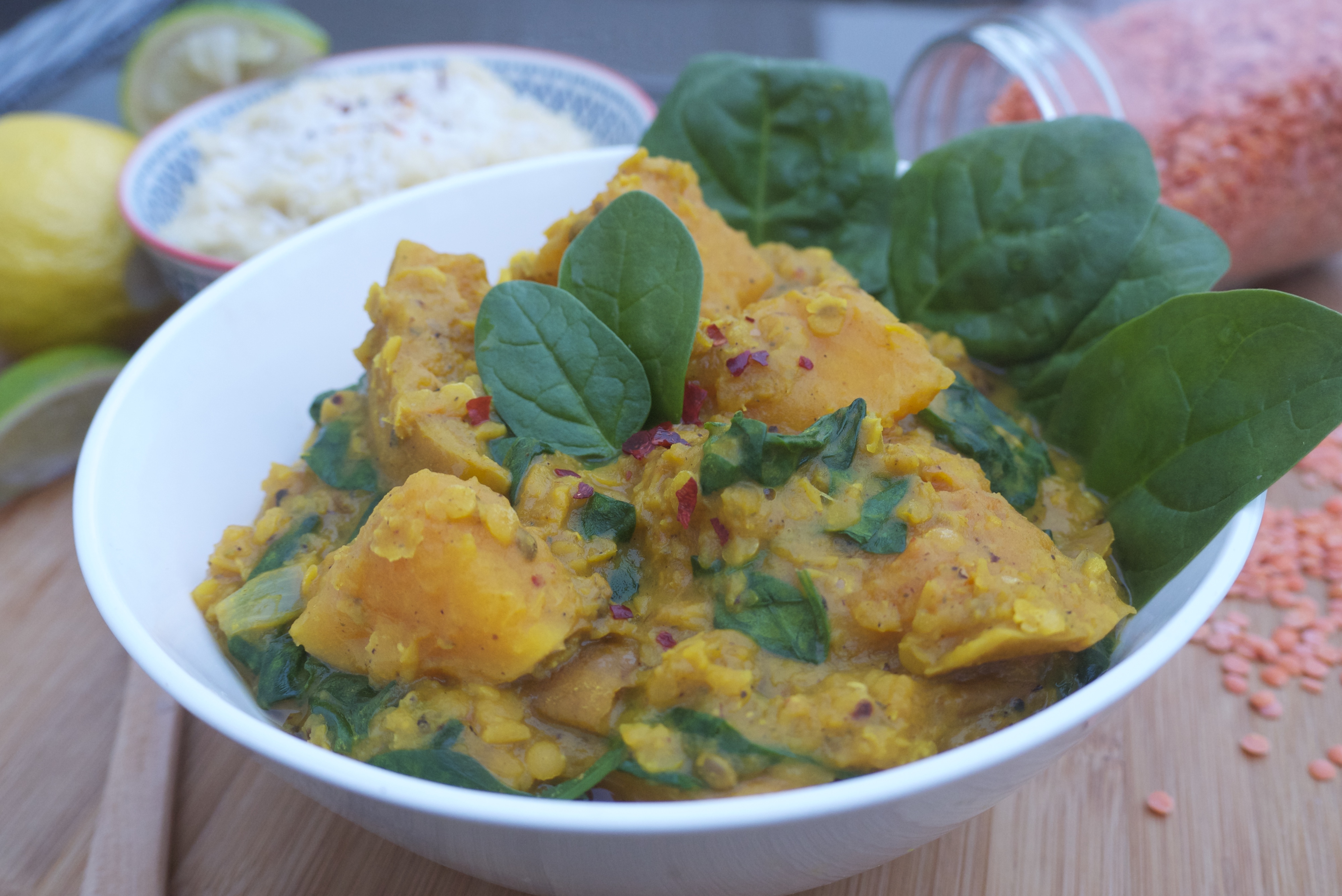 Roast Butternut Squash and Red Lentil Curry with Coconut-Lime Millet
2015-02-13 21:36:36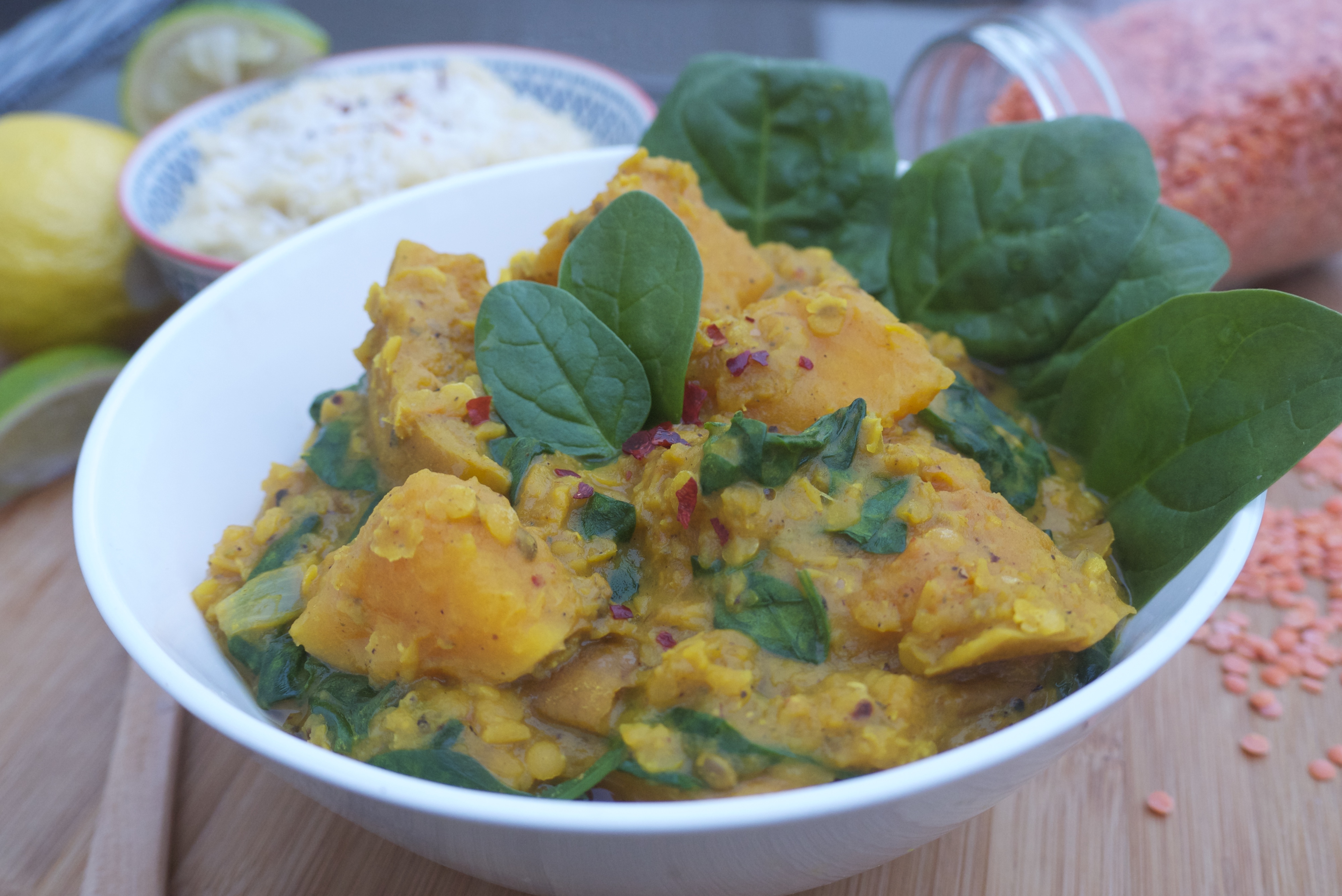 Serves 4
A warming curry bursting with flavour, for brighter skin and a strong immune system.
Ingredients
Coconut oil, to grease
1 Butternut Squash
95g (1/2 cup) Red Split Lentils
1 tsp Organic Virgin Coconut Oil
2 Cloves Garlic, minced
1 tbsp Fresh Ginger, finely chopped
1 Medium Red Onion, finely chopped
500ml Low-Fat Coconut Milk
1 Low-Sodium Vegetable Stock Cube, dissolved in 500ml boiling water
1 tsp Smoked Paprika
1 tsp Coriander Seeds
1/2 tsp Fennel Seeds
1/2 tsp Ground Cumin
1 1/2 tsp Curry Powder (Use less if you prefer it milder)
1 tsp turmeric
Pinch of Dried Chilli Flakes
Pinch of Himalayan Pink Rock Salt and Freshly Ground Black Pepper, to taste
400g (two cups) Dry Millet
60g (two cups) Baby Spinach, organic if possible
2 tbsp Unsweetened Desiccated Coconut
2 tbsp Fresh Lime Juice
Instructions
Preheat the oven to 200C.
Rinse the butternut squash and place it on a baking tray lightly greased with coconut oil. Roast it at 200C for 20-25 minutes. When the squash begins to turn golden-brown, remove it from the heat and set aside.
Rinse the lentils well in a sieve under cold running water.
With a sharp knife, remove the skin of the squash, halve it and remove the seeds and pulp.
Chop it into smaller pieces - I like them to be bite-size.
In a large saucepan over a medium heat, saute the garlic, ginger and onion for 4-5 minutes until lightly browned.
Add in the butternut squash and gently stir for 1-2 minutes.
Pour in the vegetable stock and coconut milk, add in the spices and seasoning, to taste.
Bring it to the boil and then turn down the heat and allow it to simmer for 8-10 minutes.
Add in the lentils, cover partly with the saucepan lid and allow it to simmer gently for another 15 minutes until it begins to thicken, stirring regularly.
Once it has thickened, remove it from the heat and stir in the baby spinach, allowing it to wilt.
Taste and season again, if desired.
While the curry cooks, rinse the millet in a sieve under cold water.
In a saucepan over a medium heat, simmer the millet for 10-12 minutes in twice its volume of water, stirring regularly until the water has evaporated. Take care not to let it burn!
Stir the coconut and lime juice into the millet, season if desired.
Serve the curry and millet immediately.
Notes
Any leftovers can be stored in an airtight container in the fridge for 2-3 days.
Rosanna Davison Nutrition https://www.rosannadavisonnutrition.com/