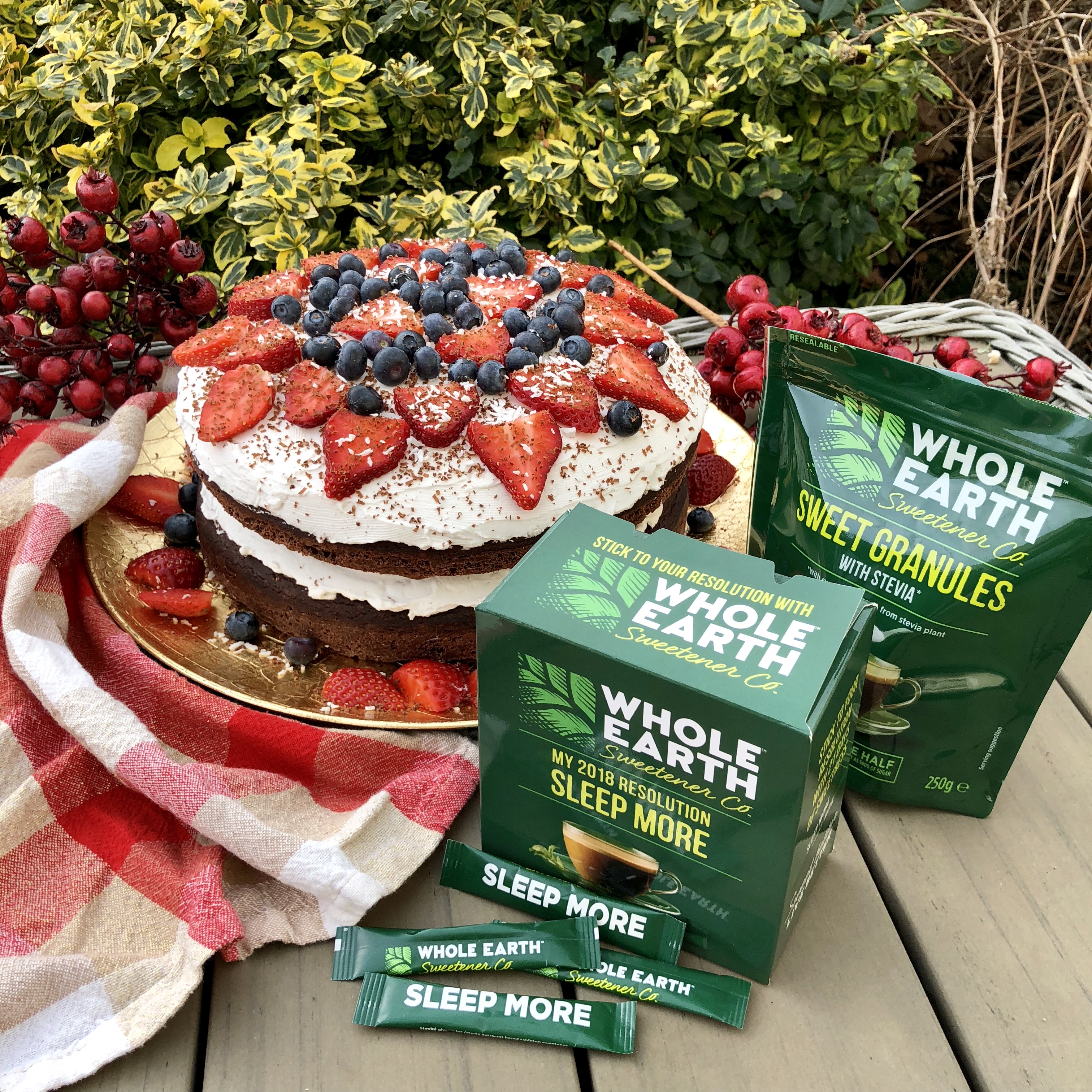 One of my 2018 resolutions is to go to bed earlier… easier said than done! I definitely have to be careful to avoid refined sugar & caffeine in the evenings as it can affect my sleep. But with the new Stevia-based, zero-calorie Whole Earth Sweetener products, you can have your cake & eat it too!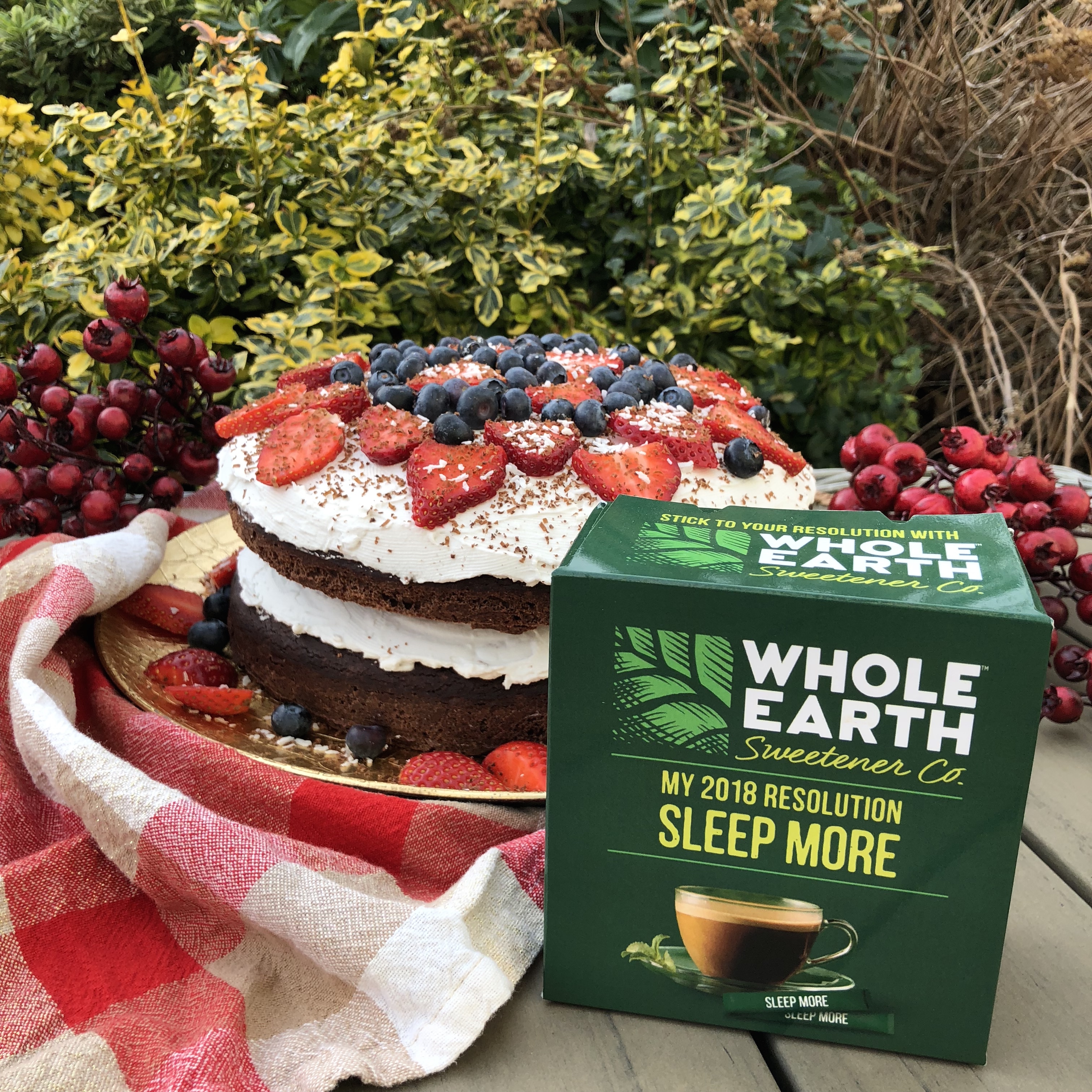 Enjoy a healthier sweet treat without the sugar crash. For this Eat Yourself Fit chocolate fudge cake recipe, I've used Whole Earth Sweetener to add delicious sweetness without the excess calories.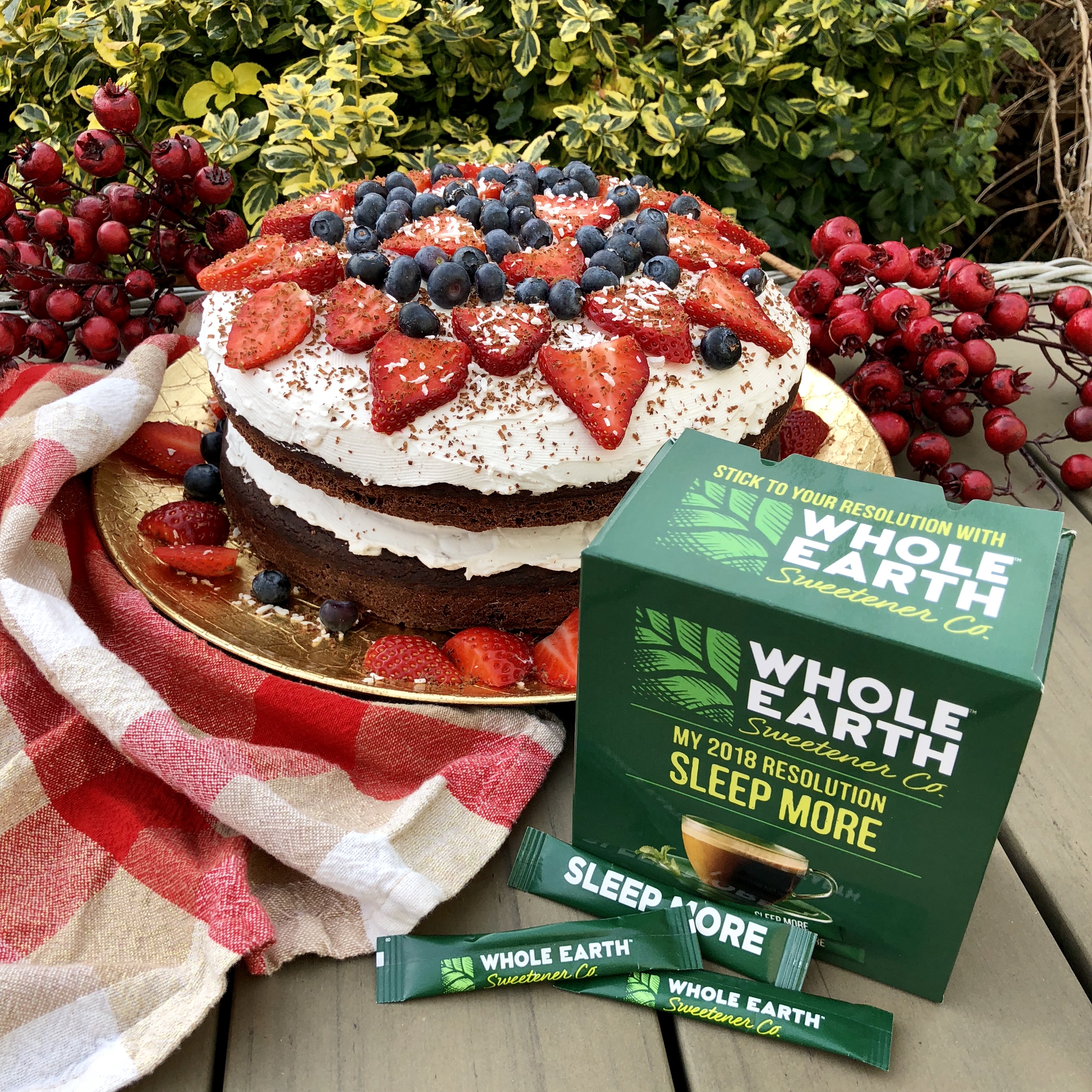 I would love to know if you get a chance to make this Chocolate Fudge Cake with Vanilla Coconut Cream Icing! Simply tag #RosannaDavisonNutrition on Instagram or Twitter or come on over to my Facebook to say hello 🙂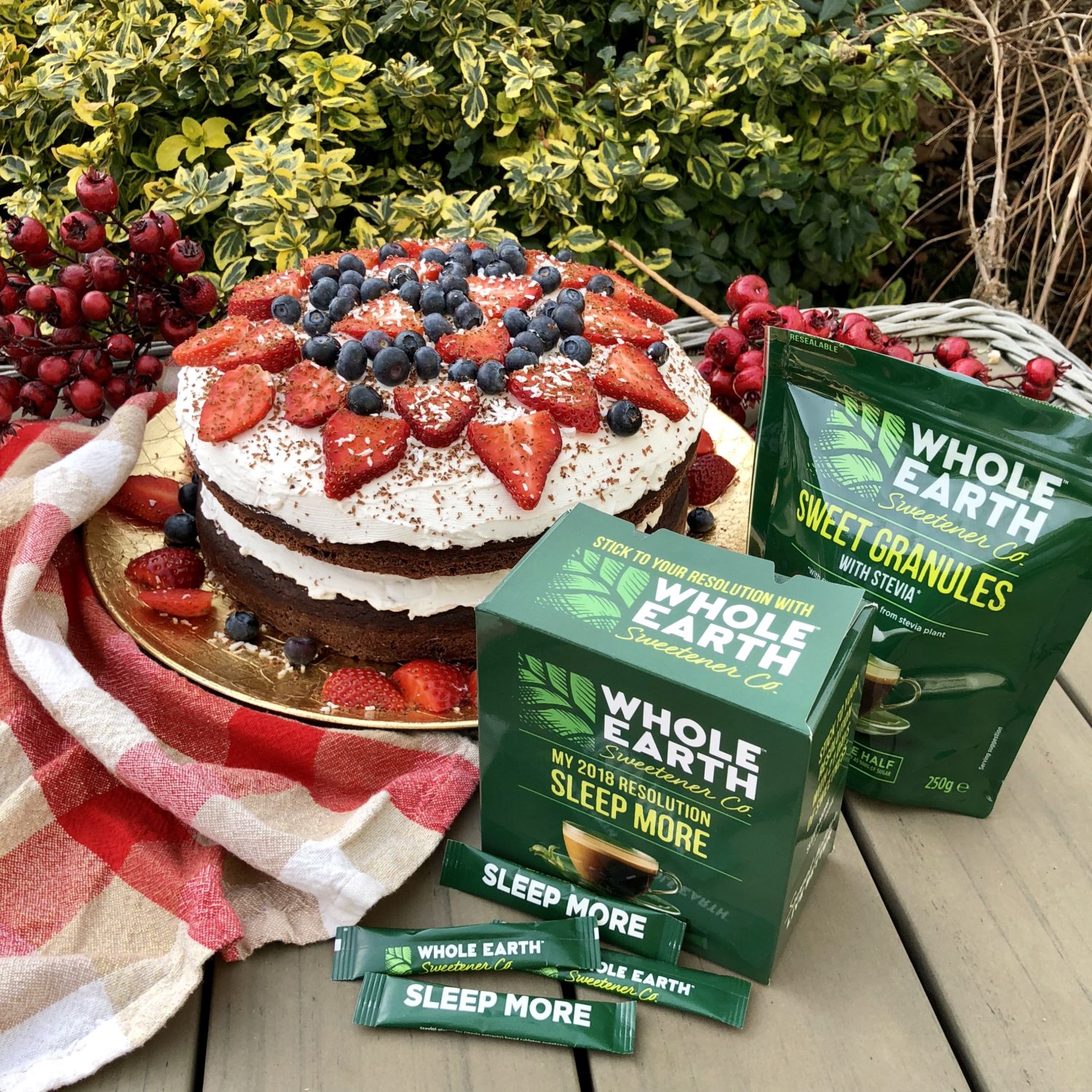 Chocolate Fudge Cake with Vanilla Coconut Cream Icing
2018-01-15 20:23:01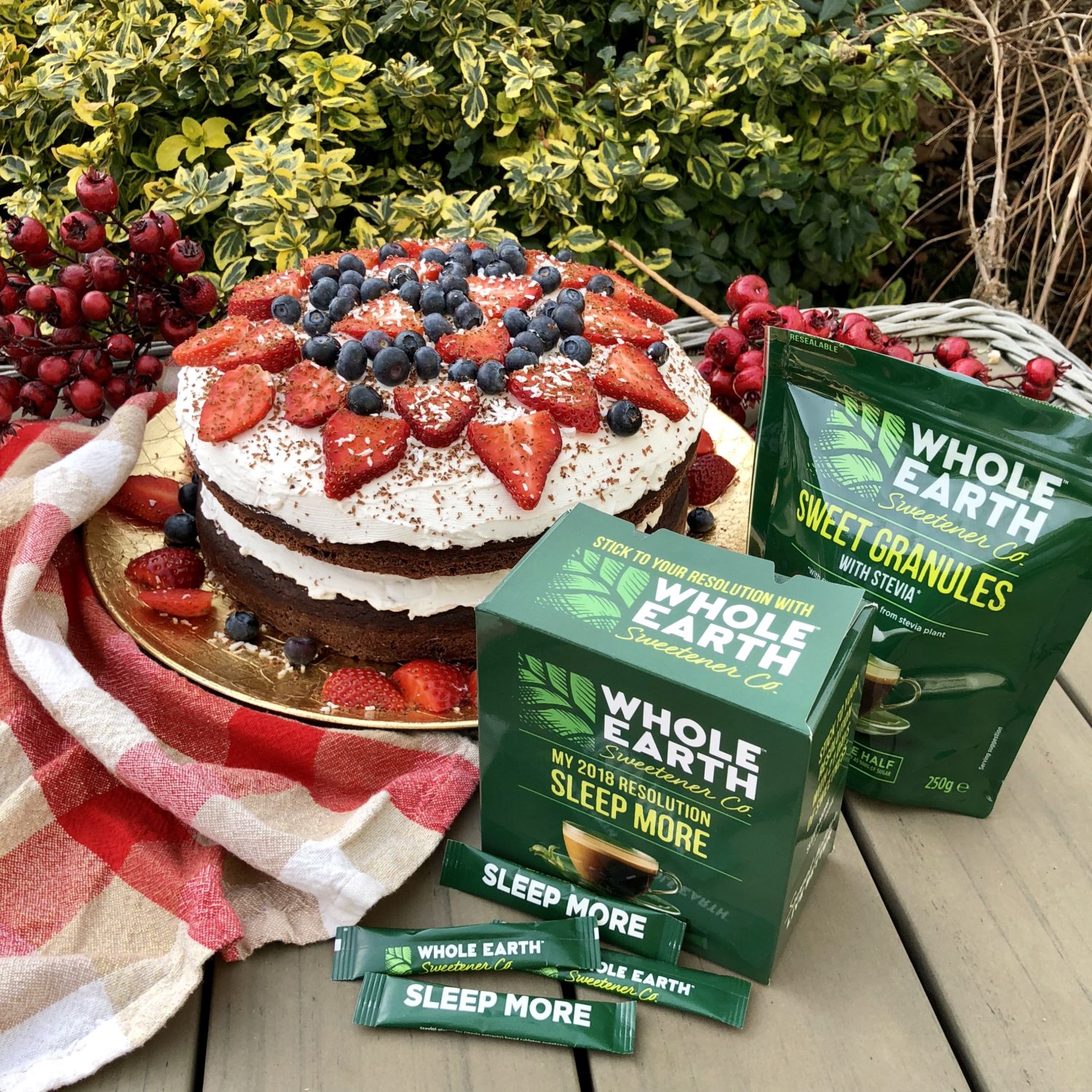 Serves 6
A deliciously indulgent chocolate cake, topped with cool, creamy coconut whip and juicy berries. Made lighter and healthier with Whole Earth Sweetener zero-calorie sweet granules. Double the recipe for a larger cake, as I did here.
Ingredients
coconut oil, to grease the cake tins
320 all-purpose white flour (I used gluten-free)
320g Whole Earth Sweetener Sweet Granules
80g raw cacao powder or unsweetened dark cocoa powder
2 tsp baking powder
1/2 tsp salt
375ml warm water
2 tsp vanilla extract or vanilla powder
140g coconut oil, melted
2 tsp apple cider vinegar
2 tsp vanilla extract
For the Vanilla Coconut Cream
3 x 400ml cans full-fat coconut milk, chilled in the fridge overnight
2-3 tsp vanilla seeds or pure vanilla extract
Fresh berries, to serve
Grated 85% dark chocolate, to serve
Instructions
Preheat the oven to 190C and lightly grease two medium-size cake tins with coconut oil.
In a large mixing bowl, sift in the flour and add the Whole Earth Sweetener granules, cacao powder, baking powder, and salt. Mix it all together, ensuring the ingredients are well blended.
Add in the warm water, coconut oil, apple cider vinegar and vanilla extract, and mix well until the wet and dry ingredients have blended into a cake batter.
Divide the batter into the two greased cake tins and bake at 190C for 25-30 minutes, until a knife comes out clean from the centre of the cake. However, don't leave it in too long as it can make the cake too dry.
Remove the cake tins from the oven and leave to cool for a few minutes before gently turning the cakes out and onto a wire rack to cool.
Make the vanilla icing by gently opening the 3 cans of chilled coconut milk, without shaking them. The cream should have separated from the coconut water.
Spoon the solid coconut cream into a mixing bowl and add the vanilla.
Use an electric whisk to whisk it for about 2 minutes, until it becomes fluffy and resembles whipped cream. Taste and add more vanilla, if desired.
The cake must be fully cooled before you spread on the icing, as it will melt in any warmth.
Place one half of the sponge on a serving plate and spread a thick layer of icing across the middle, leaving an inch from the edges to allow for it to spread out more.
Add the top layer of sponge and spread the rest of the icing across the top of the cake.
Decorate with berries and grated dark chocolate, and serve.
Notes
Leftovers must be stored in an airtight container in the fridge to keep the icing cool, and it will keep for up to 3 days but is best enjoyed on day it's made.
Rosanna Davison Nutrition https://www.rosannadavisonnutrition.com/